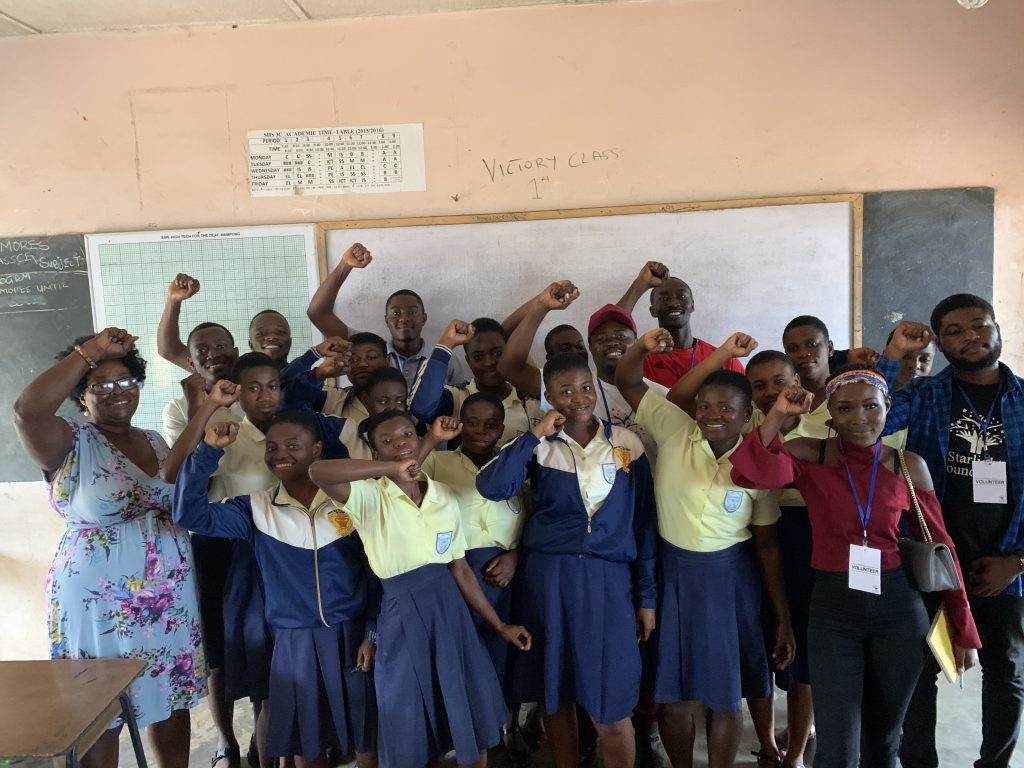 "They have their own culture; their community and a lot of people don't realize that. They just assume that deaf people are very unfortunate, very disabled, but NO" – Nyle DiMarco
The Let Hope Arise is an initiative that was birth on giving hope to some group of people in society. The project is aimed at Raising the Hope of special abled individuals. We also claim that disability is an inability yet these persons do not know the worth of these statements. How can a person thrive when he is unaware of the things he can do? The deaf persons in the disabled community have proven to be able to live beyond their incapability. The uniqueness of the use of the sign language tells us that there is always a way out of any situation. Why we call them the disabled is because they can't use some part of their bodies as we would but we now refer them to the special abled because they have proven to us that in spite of all their lack they can still make things happen with other parts of their body. This is the hope we have in them that when exposed to many opportunities they can come out with many wonderful inventions. The hope is there but there is nobody there to believe in it that is why it needs to arise and it can only be so when we arise with them.
The most visible problem identified with the special abled is that we often disassociate them from ourselves. Right from birth when they are discovered to be disabled, we turn to disassociate them from the world because we think they are incapable of things 'normal' people can. Visit many disabled schools, they are left in the hands of teachers and sympathizers; some families do not even want to be seen with disabled persons; it's a disgrace to their legacy and their outputs as family. This has led to the neglect of many disabled persons, we see some on the street, some fortunate to be in a classroom and others locked up in rooms and denied the view of the world.
This problem is what we want to solve and the various mindset we want to change. Being disabled is not a curse or an abomination, being disabled doesn't make one less of a human. Our mentality needs to change to accept that life has a lot of varieties that make us unique.
Being granted the privilege to be with them, it allows one to spend some time with the specially-abled to witness their special way of interacting with each other in other to inform us well to be able to educate the world about the deaf and their limitless capabilities. On such days you will definitely know you had it all wrong from the beginning; from spending time to learning how to use sign languages will give you a whole different picture. The challenge is their feeding since most have been neglected; we don't leave their side without giving them some basic necessities to live on. Such an act we always preach to be continued by anyone who has identified any especially abled person.
One may wonder how they survive with just signs as it can be extremely challenging to fully comprehend what they try to communicate but Let Hope Arise allows one to appreciate their mode of communication and way of life. Everyone is different in many ways but for those who are different compared to the status quo, we need to put in the effort to convince they may look different but they can do the same things, just differently.
 All that they seek is to be recognized and appreciated in society. Time with them has greatly enlightened us of many ways we can approach things. We must appreciate this and for us, in Starlight Foundation we would not stop interacting with them but what about you; it's an experience to behold, it's an opportunity worth taking and their happiness would forever remind you that no circumstance is bad and there is always a way around things.
Together! We can Let Hope Arise for these special ones.
Starlight Foundation is appealing to individuals, corporate institutions, Non-Governmental Organizations, and all Ghanaians to sponsor or partner with us to make a difference in the lives of these underprivileged ones who find themselves in such unfortunate circumstances.